Grading and analyzing test results is a never-ending educational task that doesn't have to compromise teaching and learning. The Bubble Grader solution lets teachers quickly and easily print their own bubble sheet tests with Optical Mark Recognition technology on plain paper, from bizhub and other MFPs - then scan and grade results automatically, with data reports at their fingertips in minutes. With Bubble Grader, there's no need for costly pre-printed bubble test forms that must be stored, discarded, upgraded, or reprinted. Accuracy is improved, security is maintained, and you can output bubble test sheets at the print speed of your MFP (30, 40, even 50 pages per minute). You can also say goodbye to complex test scanning systems, which are slow to operate and difficult to master. With this automated scoring and assessment solution, they'll be able to spend more time in the classroom focusing on what's really important - educating their students.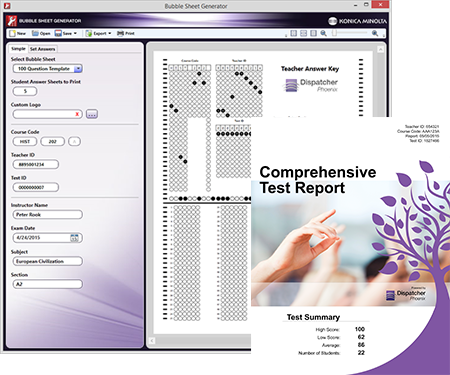 The Dispatcher Phoenix Bubble Grader solution does more than prepare and grade your tests; it can also help you compile and analyze your data, an essential feature needed to improve educational outcomes. Four automatically generated assessment reports enable teachers and administrators to chart the progress of individuals and groups, compare classroom and school performance against district norms, spot trends in student achievement and identify areas for improvement.
Test Summary Statistics Report: A summary report that gives basic statistics on test grades as a class overall. Statistics include mean, median, standard deviation, and range.
Item Analysis Report: Gives a breakdown of each item and the frequency and percentage of students that responded to each question both correctly and incorrectly.
Student Response Report: Analyzes individual student's responses to each question along with the summary statistics.
Comprehensive Test Report: Combines all of the above into an all-encompassing report.