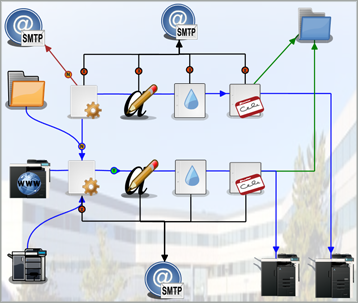 Complex parsing tasks. Dispatcher Phoenix Professional comes with a Parsing Bundle that evaluates files, inserting text, replacing text, or routing files based on user-defined conditions. Insert tray calls into print streams, distribute files that contain certain print commands, search for and replace text in files before they are printed - all with Dispatcher Phoenix Professional parsing processes.


Document indexing and folder browsing. Save time and improve your productivity by indexing and routing documents right from the MFP panel. You can browse through your PC's folder structure to choose a specific folder for your scan destination, enter a name or ID to identify the document, choose a document processing task to perform, and much more. And indexing becomes even speedier with the database lookup feature, which auto-populates other fields in the form based on a value entered or selected.


Send documents to Microsoft SharePoint. Dispatcher Phoenix Professional's SharePoint Distribution node allows users to route their scanned documents directly to the appropriate SharePoint library or folder. Users can log into their SharePoint account, browse through SharePoint libraries, and add keywords to tag their documents - all at the MFP panel.


File conversion to Postscript or PRN. Image files can be automatically converted to Postscript format for printing. In addition, the Print to File process can process incoming Microsoft Office files (Word, Excel, Powerpoint), Adobe Acrobat, and Adobe Reader files, creating PRN files via the associated print driver's default settings.


Document Routing. Several routing processes are included with Dispatcher Phoenix Professional, adding power and advanced functionality to your workflow. With the Color Route process, files are routed based on the number or percentage of color pages in a document. The Page Count Route process routes files based on the total number of pages in a document. And with the Metadata Route process, files are routed based on their metadata information. For example, if you want all files with a particular Bates Stamp sent to a specific destination, you could set up a Metadata Route rule that would search all incoming files for that Bates Stamp and route accordingly.


Support for annotations and watermarks. You can add multi-line annotations onto the page; you can also add customized watermarkes anywhere on scanned image files.


Document clean up. Remove any undesired elements from your scanned documents with the Despeckle process, which automatically removes any small dots or smudges from your documents. And to correct any documents that are scanned in at a slant, the Deskew process can be used to straighten all image files.


Simplified scanning. Run workflows on demand, directly from your MFP's control panel or via the Web Browser from a Web Capture enabled device. With custom indexing options, processing documents has never been simpler. With a clear, easy-to-understand interface, anyone can process your documents with just the push of a button.


Document distribution.With rules-based distribution, Dispatcher Phoenix Professional can send documents to different destinations, such as folders, MFPs for printing, FTP servers, or email receipients.