Dispatcher Phoenix Professional
Dispatcher Phoenix Professional is an expanded version of Dispatcher Phoenix Foundations, our powerful document workflow application. The Professional version includes additional advanced features, such as document parsing and routing processes. As an important toolset in various businesses, including print shops and other corporate environments, Dispatcher Phoenix Professional offers important support for imaging, routing, and printing tasks.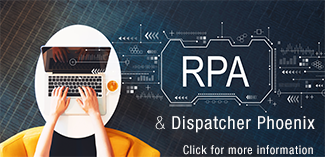 With a Dispatcher Phoenix Professional automated workflow, files can be retrieved from folders on your desktop or across the network, an MFP's User Box, directly from an MFP running bEST technology, or a Web Capture enabled device. You can set up your workflow to use a variety of imaging, routing, and printing processes on incoming files - from routing documents based on color, total page count, or metadata, and parsing Postscript files to applying watermarks and adding annotations - before sending processed files to folders, MFPs, FTP servers, or email recepients.
Dispatcher Phoenix Professional includes document indexing and folder browsing capabilities, an ODBC processing node, and a SharePoint distribution node used to route files to Microsoft SharePoint libraries/folders.
Learn how Dispatcher Phoenix can transform your organization into an advanced digital workspace with its Robotic Process Automation (RPA) capabilities.
Dispatcher Phoenix Pro
Version: 8.14.1
Build: DPP0814012325001
See version history

---
Get a brief overview of what Dispatcher Phoenix Professional is and what it can do to help streamline your document workflow.

This is the Dispatcher Phoenix Professional brochure distributed by Konica Minolta at tradeshows. This brochure is the ideal take-away item for potential customers and dealers alike.


Download the brochure now (PDF)